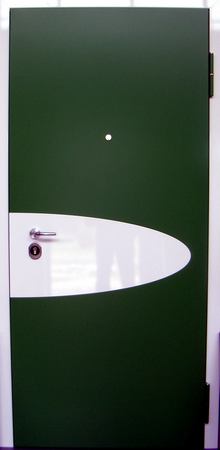 - Taylor made armored door mod. A/35 with press-folded steel sheet of 2,5 mm thickness.
- Tubular perimeter frame of 2+2 mm
- Steel reinforced internal diagonals of 2 mm thickness, burglary resistant, plate of 2 mm thickness.
- High security door lock composed by a cylinder with a secured code and small key, 5 owner's keys, personal security card to duplicate the keys, wrenching and drilling resistant external defender welded on the sheet (not screwed up).
- Seven steel locking points of Ø 18 mm on the handle side; on the hinges side the closures are composed by three fixed wedge lock elements of Ø 18 mm and two hinges with an electro-welded pin of Ø 12 mm mounted on ball thrust bearings.
- On the inside, the door is insulated with a 5 cm layer of rock wool (a sound absorbing and thermal insulating material). Thanks to the thickness of the steel (2.5 mm), the coating (mm 13 + 13) and the insulation (50 mm), we get a thermal and sound insulation of 80%.
- CLADDING PANELS: enhanced chipboard panels from 13 mm to 16 mm, enhanced MDF, lacquered MDF from 12 mm to 22 mm, finished on the edges.
- The metallic side is painted with the same color of the wood coating. The frame and the shutters can be painted with two different colors (internal and external side) to get uniformity of dye between wood and metal.
- ACCESSORIES: solid brass handles with PVD treatment (Physical Vapour Deposition - scratch and corrosion resistant), panoramic peep-hole with 200° field of view, opening limiter, stainless steel drop sill, double pivilene seal along the perimeter of the door.
For any kind of information or for a free quotation, please sent us a message compiling the module "Contacts".